A Crystal Reiki Healing Session is a deeply relaxing, rejuvenating, clothing-on, minimum contact therapy.
Each session combines Crystal Healing and Reiki Healing:

1) Crystal Healing is placing crystals and stones on the body along each of the Seven Major Chakras energy centers of the body. Placing crystals on the body helps to release energy blockages and to assist the body to realign back to a place of balance and harmony.
2) Reiki Healing is a relaxation technique that supports the body's natural healing process. It is a light, non-invasive touch with the practitioner's hands placed and held on a series of locations to direct healing energy from the top of the head to the torso, and down to the feet. The practitioner's hands are never intrusive or inappropriate, nor is there any pressure. The practitioner's hands can be gently placed on the client, or not touching, with hands above the body.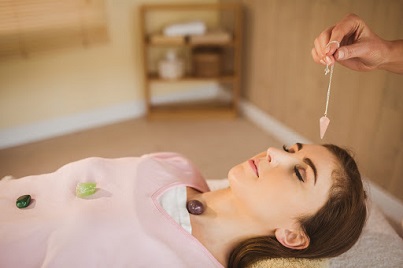 To know Crystal Reiki Healing is to experience Crystal Reiki Healing.
A Crystal Reiki Healing session can help ease tension and stress and can help support the body to facilitate an environment for healing on all levels – physical, mental, and emotional. A session is pleasant and relaxing and is often utilized for one's personal overall wellness.
Questions?
Your Discovery Session is a no-cost complimentary session online via Zoom or by Phone. Your Discovery Session is an opportunity to answer any of your questions and to find out if a Crystal Reiki Session is the best fit for your overall health.
Book a Discovery Session TODAY (click-here).
Disclaimer: These services are NOT a substitute for medical care or advice.