Crystal Reiki Sessions are 60 or 90 minutes long. A session can be in-person in the Los Angeles area or Distant Healing (click-here for Distance Healing info).
The first session is 90 minutes long and includes a discussion that includes a brief health history and your expectations from your session. You will be asked to describe any particular problems or issues you are experiencing and asked what you are hoping to achieve from your session.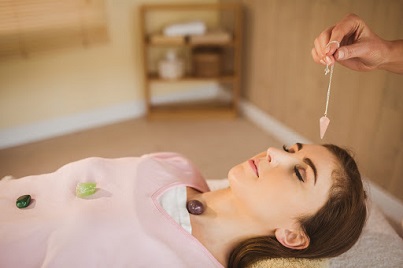 To know Crystal Reiki Healing is to experience Crystal Reiki Healing.
For the actual session, you will rest comfortably on a massage table on your back with your shoes removed. Unlike massage therapy, no articles of clothing are removed and you will always be fully clothed; loose, comfortable clothing is suggested.
More Info
Crystal Reiki Session
Distance Healing
Questions?
Your FREE Discovery Session is a no-cost complimentary session online via Zoom or by Phone. Your Discovery Session is an opportunity to answer any of your questions and to find out if a Crystal Reiki Session is the best fit for your overall health.
Book a FREE Discovery Session TODAY (click-here).
Disclaimer: These services are NOT a substitute for medical care or advice.