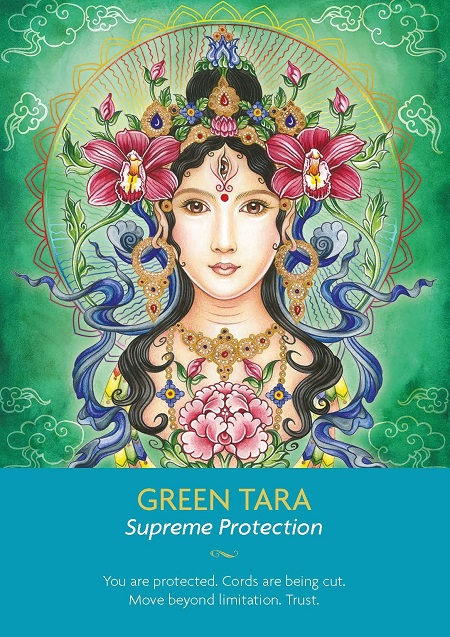 Legend has it that Avalokitesvara, the personification of perfect compassion, was looking down on the Earth one day and cried tears when he witnessed all the suffering in the world. When the tears hit the Earth, a lotus formed, from which Tara, the goddess of compassion and light, was born. She has many forms based on different colors and we have chosen green in this oracle because she brings a light of protection and safety with her. Always compassionate and loving, she helps us move into a new state of being and doing.
DAILY ANGEL MESSAGE!
Take a deep breath, let it out slowly, say this prayer, and then keep reading:
"Thank you angels for revealing to me what I need to know!"
YOUR MESSAGE
You are safe. Protection is all around you. The worst is behind you and you are ready to move beyond the challenges that were set out for you. Cords are being cut between you and your past so that you can feel energetically clear and aware. Don't worry about recalling fearful experiences – they aren't going to be recreated now. Just acknowledge them and leave them behind so you can step into a space of spiritual and personal freedom. Green Tara has placed a force-field of complete love and acceptance around you. She is here to tell you that you no longer need to build up walls around your heart and that it's safe to trust what you feel and who is in your life today.
DECK: Keepers of the Light Oracle
ARTIST: Lily Moses
Thank you for sharing this card if it relates to you!